The Starlite Pet Product Line is completely Organic and 100% natural full-spectrum CBD hemp oil. Our hemp-derived CBD tinctures use whole-plant extraction and are available in bottles containing amounts from 50mg to 1000mg in total CBD formulated for pets according to their weight.
Starlite's proprietary compounding formula and all natural ingredients produced in the USA, feature a blend of naturally occurring compounds and terpenes found in full spectrum hemp oil. Starlite products for pets contain full spectrum hemp oil has many benefits that include; helping your pet stay calm, supporting a strong immune system, reducing inflammation which promotes healthy hips and joints.
Our products are so pure that you can use them yourself. Our CBD is not imported from China and is not considered substandard and not usable for human consumption. In fact, our Products for pets are produced in the same facilities as our products made for humans. The only difference is that our pet products have a bacon flavor and our human products have either no flavor or peppermint flavoring. There are no herbicides, no pesticides, no additives or preservatives, just simple CBD in a straightforward formula.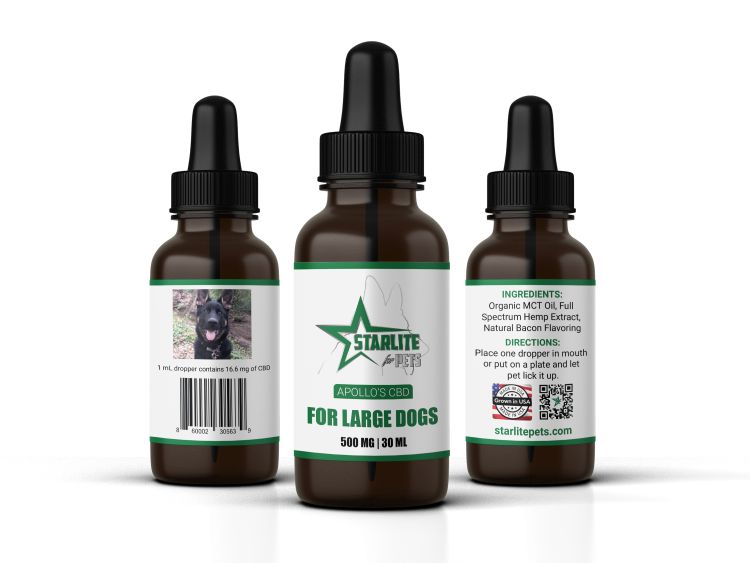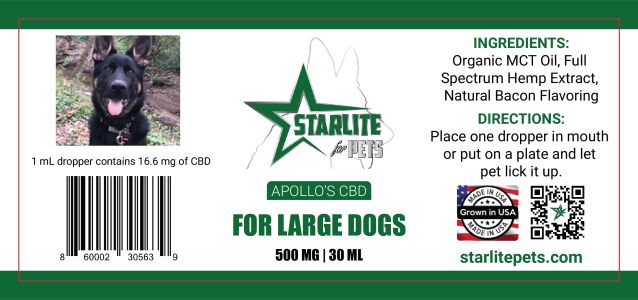 Apollo's CBD Oil for Large Dogs